Siblings – How Will They React?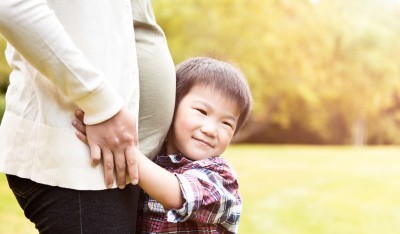 Sponsored Link
This morning I got to hear my precious baby's heart beat! It was such a sweet moment and this time I got to share it with my firstborn. Hearing the heartbeat is one of only two things I actually enjoy about pregnancy. The second is feeling the baby move… those soft little flutters before anyone else can feel it. The ones you don't have to share with anybody else, those are the best!
When I heard my son's heart beat I remember the relief and joy. It took a while for the midwife to find it. I was beginning to get nervous. Then, there it was, loud and strong. I didn't cry or say anything profound. I just started to giggle. Soon we couldn't hear anything because my belly was jiggling like I was Santa Claus. I couldn't stop laughing. It was a moment of pure joy!
This morning when I heard my second child's hear beat, I grinned and then laughed again, but this time I was actually laughing at something. I was laughing at my toddler. My two year old son sat beside me with his own special set of headphones, listening to his baby sister or brother.
We have been explaining for the last two months that there is a baby in Mommy's belly. We have told him that it will be a baby sister or a baby brother and we talk a lot about which he would prefer. So far he's voting for a baby dinosaur. We've tried to explain that isn't possible, but he's convinced. Since he believes it is a baby dinosaur, he often walks up to my stomach and roars right into my belly button in his loudest voice.
This morning, headphones to his ears, he listened as we found the heartbeat. I told him what he was hearing. Then, as the familiar drumming began, he took out the earbud and stuck it in my belly button. "Here baby. Baby, listen you!" Just like that, I began to laugh.
So far his budding relationship with his sibling isn't the cutesy one we had read about. He doesn't feel like this is "his baby," a reaction some of our friends described witnessing. He doesn't ignore or dislike the baby. Most of the time, he doesn't really interact much with my growing belly, but sometimes he does, in his own way. He doesn't run up and kiss my stomach or tell the baby "I love you." Instead he says "ROAR!!!" as loud as he can and runs back to what he is doing. He sometimes comes over and pokes my stomach or tries to blow raspberries into my belly button.
To some, his reaction might not seem sweet. Some might say he isn't connected or doesn't understand what is going on. I think they're wrong. I believe, especially in moments like this morning, that he's connecting and forging a bond with his younger sibling in his own way every day.
I can't wait to see what their relationship is like after the baby is born and how it will grow and change over the years. I pray that they will be close. Maybe one day in the future I will be chasing them both around the house as they roar at one another, pretending to be dinosaurs.
Written by: Sara Parise
Sponsored Link