Do You Let Your Kids Climb Up The Slide?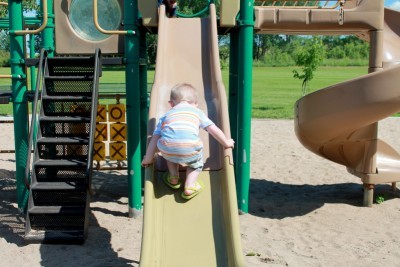 Sponsored Link
What do you think? Do you agree or disagree with this mom?
OK, I confess: I let my kids climb up the slide.

Some of you are gasping and shaking your fists. Others are shrugging. Apparently, I discovered recently, the Great Slide Debate is one of the throw-down, gloves-off, all-out mommy wars. We've all heard the old playground mantra: up the stairs and down the slide. Based on the responses I saw to a recent piece, you're either an up-the-stairs, down-the-slide parent or a sure-go-on-up type.

And the up-the-stairs-down-the-slide crowd really, really hates the other. One mother said that kids who went up the slide were bullying others who would then be too shy to go down the slide. Another said that if parents weren't enforcing the rule, she had no problem telling other people's kids not to climb the slide. "Ladders are for climbing," says one commenter. "You're teaching them how to interact with and in society … that is basic fundamental parenting!" Universally, the moms complained about lazy parents who wouldn't enforce basic playground rules.

Let me assure you, I know the basic playground rules. I've even told my kids to obey them a time or two. But I believe that half the function of a slide is to climb up it. As long as no one's in line to go down, I think kids should have the chance to climb and clamber and slip up to their hearts' content. It's just as important, I think, as going down.
You can continue reading about the great slide debate on Scary Mommy. When you're finished, leave a comment and share your thoughts.
Sponsored Link